---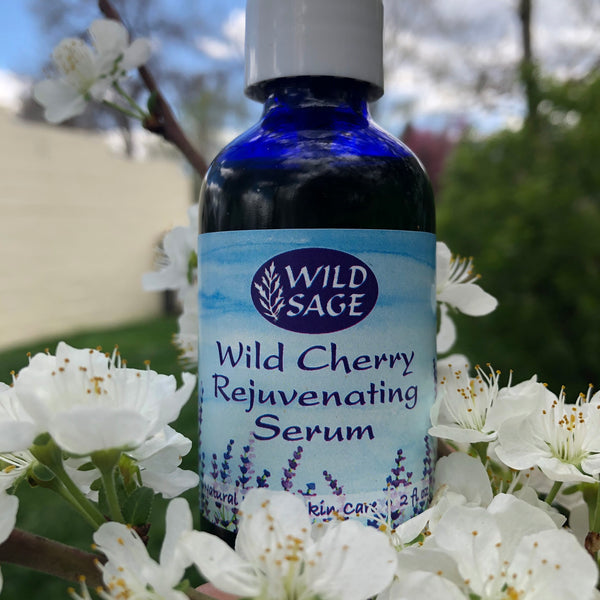 I make my rejuvenating serum with the freshly squeezed juice of the chokecherry, a member of the rose family. These small, dark red fruits provide are a rich source of compounds (anthocyanins and phenolic acids) which help to gently exfoliate, combat free radicals, and support collagen and elastin production. The addition of raw Vermont honey leaves skin soft and velvety.
Use once a day, after cleansing and toning, to rejuvenate your complexion, and add extra juiciness. Follow with your favorite Wild Sage moisturizer.
Ingredients: Jojoba oil*, infusion of lavender*, roses*, horsetail*, chamomile*, comfrey*, calendula*, strawberry*, nettles*, yarrow*, and red clover*, rose hip seed oil*, Prunus virginiana*, raw VT honey**, aloe vera juice*, extracts of St. John's wort* and witchhazel**, vitamin E oil (d-alpha tocopherol), essential oils of lavender (Lavendula angustifolia)* and carrot (Daucus carota)*. *Organic, **Pesticide Free
Reviews:
"The face serum is absorbent and not too oily. It makes my skin feel and look amazing!"
-K.C., Oakland, ME
"I love the Wild Cherry Serum - it makes my skin glow!"
- Angela, Morrisville, VT
 "I am THRILLED with the Rejuvenating Serum! What a wonderful product."
– Fran, Orlando, FL
"Thanks for the great products—love your Cherry Serum! Your products are pure, honest, effective and reasonably priced! Keep up the good work."
– Maria, Albany, NY
"I have been using your rejuvenating serum for about three months. I use it together with the Rose Geranium Face Lotion (no other makeup), and I have had so many compliments on how great my skin looks. At my age (78), I didn't really think my skin could improve at all, but thanks to you it has."
– Esther, Lyons, CO