---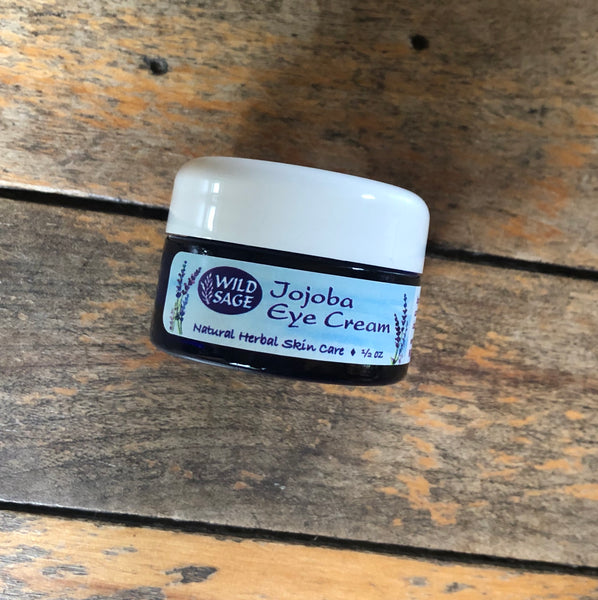 My eye cream is designed to soften wrinkles and moisturize the delicate skin around your eyes. Used regularly, you will notice a difference in the delicate skin around your eyes. It is rich in Nilotica shea butter, which both softens and provides sun protection. After cleansing your face, gently apply the cream from the outside corner to the inside corner of each eye, both under your eyes and on the very upper portion of the upper lid.
If anything oily gets into your eyes, it may clog your tear ducts and could cause puffiness, so avoid applying directly to your upper lids and lashes.
Please note: this product contains pure, unrefined Nilotica shea butter which can naturally suspend in the product when subjected to changes in temperature. The resulting suspended shea beads are normal, melt on skin contact, and contain the same deep moisture for your skin.
Ingredients: Jojoba oil*, Nilotica shea butter*, rose hips seed oil*, VT beeswax**, carrot seed oil (Daucus carota)*, vitamin E oil, org alcohol extract of St. Johns wort*, calendula*, chamomile* & yarrow*. *Organic, **Pesticide free
Reviews:
"I am very pleased with the eye cream and the difference it made in repairing dryness."
-Tyla, Longmont, CO
"I love the eye cream - it feels so nourishing and moisturizing. My under eye area looks so good now!"
-Jill, Topsfield, MA
"I have been using this tiny jar a very long time, and I have hardly used any at all. It will last you a LONG time."
–S P Bragg, About.com guide to Beauty and Health (beauty.about.com)