---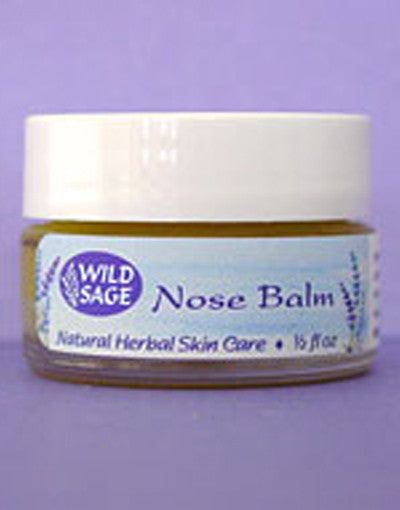 A healing and softening balm of oils, waxes, and herbs that smells like eucalyptus and wintergreen. Originally formulated for dry, Rocky Mountain noses, this balm offers year-round support helping to soothe inflamed nostrils aggravated by allergies, wintry conditions, or during cold and flu season.
Ingredients: Olive oil*, VT beeswax**, echinacea*, calendula*, comfrey*, St. John's wort*, yarrow*, chamomile*, chaparral, burdock*, myrrh, red clover*, plantain*, mugwort*, hyssop*, lavender*, chickweed*, vitamin E oil, essential oils of lavender (Lavendula angustifolia)*, eucalyptus (Eucalyptus radiata)*, and wintergreen (Gaultheria fragrantissima)*. *Organic, **Pesticide free
Review:
Nose Balm is my all-time favorite! I couldn't live without it.
Cathy, Lyons, CO
Nose Balm is excellent for clearing up that dried out nose that comes with a cold. This product lubricates within and without, makes breathing easier by opening nasal passages, and has made me feel better faster. I love the smell, and when I go outside after applying it, the high desert smell here seems wonderfully magnified.