---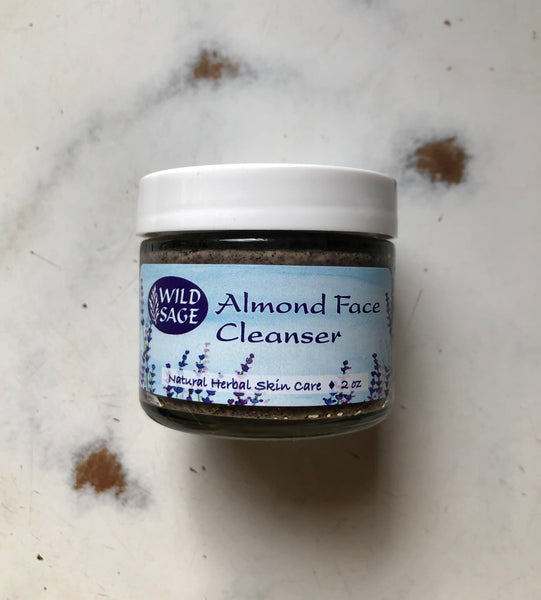 My Almond Face Cleanser cleans your face morning and evening without drying it out the way soap can. Soap might leave your skin feeling clean, but it can upset the water to oil balance by stripping away natural oils. Almond Face Cleanser dissolves excess grease on the skin, reduces enlarged pores, and gently exfoliates*. It stimulates circulation in dry skin and unclogs pores in oily skin. 
Once the cleanser has been thoroughly rinsed off, complete your routine with an herbal toner.
Be sure to always use clean hands when dipping into the jar to avoid contamination.
*Please note: due to the irregularity in size of almond particles this cleanser may not be suitable for sensitive, or mature skin types. If you are unsure whether this product is appropriate for you, send me an email - hello@wildsageskincare.com - to discuss your skin's needs.
Ingredients: Horsetail infusion*, almonds*, jojoba meal*, sunflower oil*, bentonite clay, St. John's wort extract*, oats*, fennel seeds*, xylitol, raw VT honey**, vitamin E oil (d-alpha tocopherol), grapefruit seed extract, benzoin resin*, Irish moss. *Organic, **Pesticide free
Review: 

Almond Face Cleanser makes my skin feel like velvet! I use the cleanser with Rose Geranium Face Lotion in the morning and just the cleanser at night. Previously, I always had skin problems. My face has never been this nice; I love your products!
— Annie, Estes Park, Colorado