---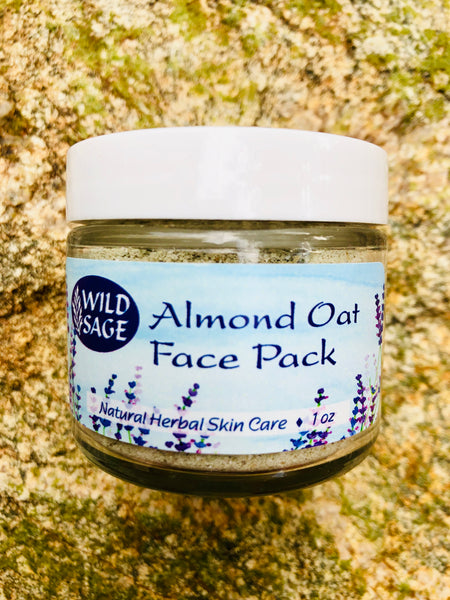 I've created a rich blend of almonds, oats, and flower petals to give a deeply emollient cleansing to the pores of your face. Almonds and oats are both wonderful softening exfoliants. I add clay to draw out impurities and kelp to provide minerals. Peppermint, strawberry leaf, and lavender help combat skin oiliness. Almond Oat Face Pack can be used as a daily cleanser or as a deep cleansing face pack.
For daily cleansing, mix 1/2 teaspoon with a little water, and smooth over your face. Rinse well, and follow with one of my toners. You can also mix it into herbal tea, apple cider vinegar, or yogurt as the base for a variation instead of using water.
As a deep cleansing face pack, smooth on as above, and leave on for 5 to 10 minutes. Rinse well. Using this pack once or twice a week can help cleanse your pores deeply without drying your face, and can normalize oily skin.
Almond Oat Face Pack also makes a wonderful cleanser for traveling in the tropics. Not only is it light and easy to carry, but also in a humid climate, our skin is often much oilier than usual, and this cleanser will help bring the oiliness back into balance.
Ingredients: Oats*, almonds, clay, peppermint*, chamomile*, fennel seeds*, lavender*, licorice root*, strawberry leaves*, dandelion leaves*, kelp*. *Organic