---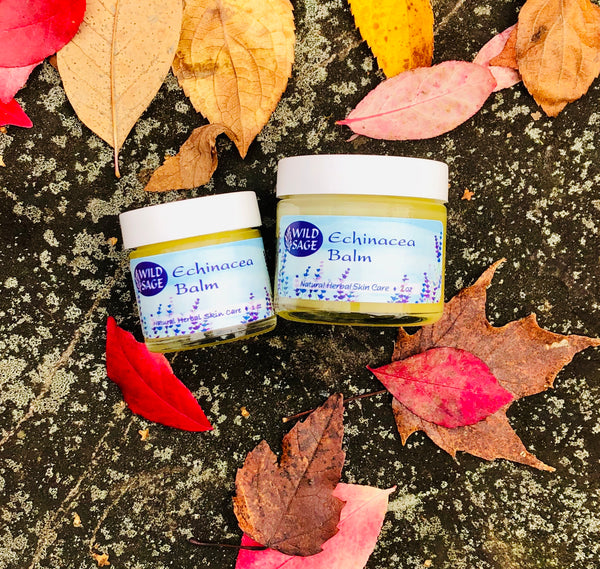 This is an excellent balm for soothing rashes, surface scrapes, cuts, and swellings. Keep it in your first aid kit. Echinacea is an effective antimicrobial, antiseptic, and anti-inflammatory herb.
I add comfrey, for its wonderful cell regeneration powers, as well as calendula, yarrow, chamomile, burdock, myrrh, red clover, plantain, mugwort, and chickweed. The herbs are in a protective, water-resistant base of olive oil, beeswax, and natural vitamin E oil to stay in place longer and diminish scarring.
Ingredients: Olive oil*, VT beeswax**, org alcohol extract of Echinacea purpurea* & angustifolia* roots, calendula*, comfrey*, St. John's wort*, yarrow*, chamomile*, chaparral, burdock*, myrrh, red clover*, plantain*, mugwort*, hyssop*, lavender* & chickweed*, vitamin E oil (d-alpha tocopherol), Rescue Remedy*. *Organic, **Pesticide free
Reviews:
"Echinacea Balm provides relief from chronic or allergy related itching, gives total and immediate relief from minor burns (including sunburn), and fast acting relief to insect/mosquito bites."
-Deb & Dana, Lyons, CO

"All of my thanks go to the maker of this wonderful salve! I'm 54 years old and I have had weepy, crusty sores on my legs for 14 years. I went to many doctors, including dermatologists; they were unable to diagnose the ailment even when they took a biopsy.
One day, my wife was shopping in Lyons and bought some Wild Sage Botanicals Echinacea Balm. I tried it on my legs and within a day we noticed the redness, weeping, and itching were much improved. Over the next few months, one leg was completely healed and the other is down to just a few nagging sores.
All of my thanks go to the maker of this wonderful salve! It has accomplished what no doctor could."

— Rick, Longmont, Colorado