---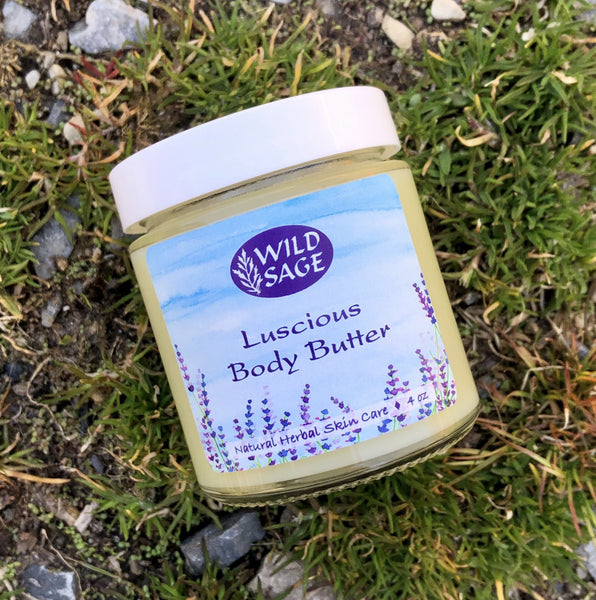 This luxuriant body cream will nourish your skin and soothe aching muscles. Regular use of this shea butter-rich cream helps restore skin elasticity, reduce wrinkling, and help prevent conditions such as dermagraphic skin. It also contains aloe vera, comfrey, and calendula for helping skin irritations. This is the perfect body cream for those with sensitive skin. This lusciously addictive body butter is so thick it comes in a jar. Dip clean fingertips in and slather lavishly all over.
Please note: this product contains pure, unrefined Nilotica shea butter which can naturally suspend in the product when subjected to changes in temperature. The resulting suspended shea beads are normal, melt on skin contact, and contain the same deep moisture for your skin.
Ingredients: Sunflower oil*, extracts of lemon balm*, Roman chamomile*, calendula*, comfrey*, and horsetail*, Nilotica shea butter*, extra virgin coconut oil*, cocoa butter*, vitamin E oil (d-alpha tocopherol), essential oils of lavender (Lavendula angustifolia)*, bergamot (Citrus bergamia)*, Roman chamomile (Chamaemelum nobile)*, and carrot (Daucus carota)*. *Organic
Reviews:
Luscious Body Butter is the best thing to use on a new tattoo. It keeps the color looking good and keeps it moist.
– Ingrid, Boulder
Luscious is definitely the word that I would use to describe this product. It contains lots of wonderfully natural ingredients…. Incredibly rich and thick (it actually comes in a jar), you literally have to smooth it on after the bath and your skin will feel like velvet. And during the winter, when you look at the dry skin on your legs and grimace … this all-over-body butter will take care of the problem. And a nice plus … it smells so good. Very natural scent that leaves you feeling very decadent!
– S P Bragg, About.com guide to Beauty and Health (beauty.about.com)