---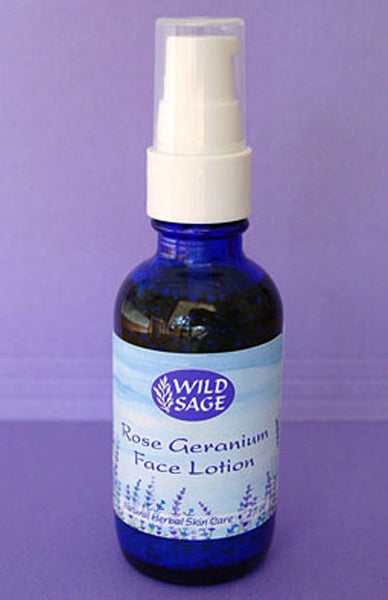 This nourishing lotion is right in the middle, perfect for all complexions. Rose Geranium is emollient, reduces wrinkles, tightens pores, and moisturizes. It contains Nilotica shea butter for soft, velvety skin and UV protection, and roses, which are esteemed for uplifting one's spirit and soothing inflammation. Apply moisturizer in the morning after using your choice of cleanser and toner.
Please note: this product contains pure, unrefined Nilotica shea butter which can naturally suspend in the product when subjected to changes in temperature. The resulting suspended shea beads are normal, melt on skin contact, and contain the same deep moisture for your skin.
Ingredients: Jojoba oil*, infusion of rose petals*, horsetail*, calendula*, comfrey* chamomile*, red clover*, and strawberry leaves*, rose hips seed oil*, Nilotica shea butter*, aloe vera juice*, St. John's wort extract*, vitamin E oil (d-alpha tocopherol), xanthan gum, essential oils of geranium (Pelargonium graveolens var roseum)* and rose (Rosa damascena)*. *Organic
Review:
After battling an unusual skin disorder on my toddler son's face for approximately three years, I was just heartbroken to find that with each new prescription, he appeared to lose even more skin pigment across one cheek. In despair, I tossed out our numerous prescriptions, determined not to cause more harm.
One day, a visitor had an unusual little blue bottle that smelled so soothing that, without thinking, I reached for my son as he ran past me and gave him a smudge. Voila! The results were there in just two days. I just could not believe that, after all this time, all the visits to a pediatric dermatologist, the answer lay right up the hill in Lyons.
I still do not know what this Rose Geranium Face Lotion contains, or how it works, nor do I care. All I know is that my little olive skinned boy is having less and less white blotches on his face. I could just cry with relief. At 4½ years, my son has little or no notice of his condition, but he no longer fights "medicine time," as this does not cause the stinging and burning that many prescriptions did.
I remain so very grateful to the person who developed this "magic potion."
— Charissa, Bergen Park, Colorado